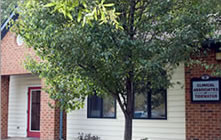 Location: The main office of Clinical Associates of Tidewater is located in Liberty Commons at 12695 McManus Boulevard, Building 8, Newport News, VA 23602. Our phone number is (757)877-7700.
Directions: Take I 64 to the Jefferson Ave. exit headed toward the Newport News-Williamsburg Regional Airport.
Turn right on Denbigh Blvd.
Turn right on McManus Blvd.
You will pass Mary Immaculate Hospital on your left. Approximately 200 ft. past the hospital, turn right into Liberty Commons, 12695 McManus. Clinical Associates of Tidewater (CAT) is located in Building 8 toward the rear of the complex on the right. See map below.